NEWS LIST PAGE

Tsaker Chemical Acquire 100% Equity Interests of Dongao Chemicals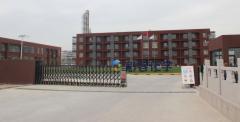 (Hong Kong – 4May 2016) Tsaker Chemical Group Limited ("The Company", together with its subsidiaries, collectively referred as the "Group", stock code: 1986.HK) is pleased to announce that on 4 May 2016, Tsaker Chemical (Dongying) Co., Ltd. ("Tsaker Dongying", indirectly wholly-owned subsidiary of the Company) and Huage Holdings Group Co., Ltd. ("Huage Holdings") has entered into the Agreement to acquire the entire equity interests in the Shengli Oil Field Dongao Chemicals Co., Ltd. ("Dongao Chemical") at the consideration of RMB17,361,000 (equivalent to approximately HK$20,668,000 ).
Prior to the acquisition, the Group rents the production lines of Dongao Chemcial from Huage Holdings for the production of mononitrotoluene. According to the independent valuation report, the net asset value of Dongao Chemical was approximately RMB17,361,000 as at 29 February 2016. As at the date of this announcement, the annual designed production capacity of mononitrotoluene (consisting of PNT, ONT and MNT) amounted to an aggregate of 80,000 tonnes; and the annual production capacity of ONT, which mainly used for production of agricultural chemical intermediates amounted to about 48,000 tonnes.
The Group will become one of the largest global mononitrotoluene producers after acquiring the 80,000 tonnes production capacity. The production of mononitrotoluene enables the Group to have stable source of PNT for its production of DSD Acid (PNT is the key raw material for DSD Acid production). ONT/OT is the important agricultural chemical intermediates especially for herbicide. The acquisition allows the Group to secure this capacity and enhance the leading market position, as well as further improve the market share and price bargaining power. It also can strengthen the refinance ability of the Group's asset.
Regarding the acquisition, Mr. Ge Yi, Chairman of Tsaker Chemical said, "The acquisition of Dongao Chemical is a strategic move for the Group to pursue bolder development in the fine chemical industry. Since the leasing of Dongao Chemical for the production of mononitrotoluene in the beginning of 2015, the Group has become more familiar with the production techniques of mononitrotoluene, whereby the production has ramped up and gradually reached its optimal scale. Given the recent sales performance, profitability and production volume of mononitrotoluene were better than expected, we believe that the Group has successfully entered into the mononitrotoluene market and enjoys a significant presence in the agricultural chemical intermediate industry, especially herbicide industry. The Directors remain optimistic on the acquisition and expect the production and sale of mononitrotoluene would deliver good financial return to the Group in the medium to long run."